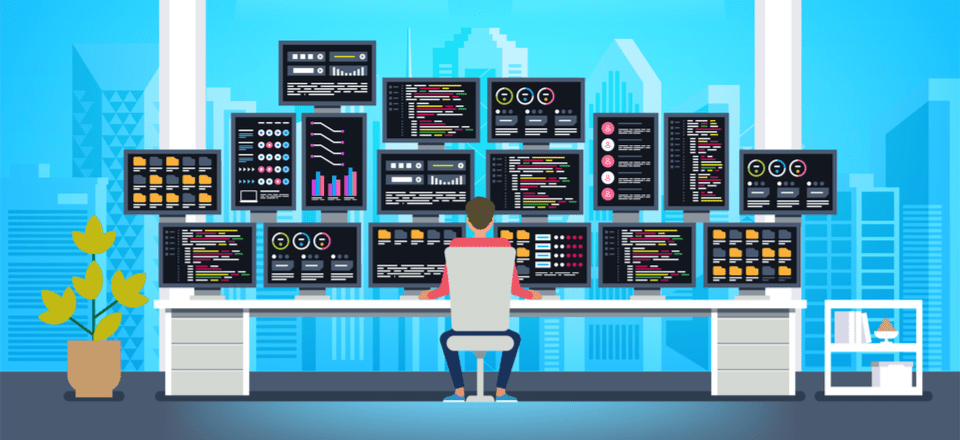 Het uitvoeren van meerdere WordPress-websites kan moeilijk zijn.

 

Dat is de reden waarom veel mensen hun onderhoud willen verminderen en meerdere WordPress-blogs willen uitvoeren op één WordPress-installatie.

 

U zou plug-ins slechts één keer bijwerken, niet zes keer.

 

De beveiliging zou strakker zijn.

 

Gebruikers hebben slechts één login nodig.

 

Er zijn veel voordelen om dingen samen te voegen tot één WP-site.

 

Helaas kun je het niet doen.
Dat klopt … U kunt niet meerdere blogs hebben
Tenminste, niet standaard. De manier waarop de WordPress Core is ingesteld, is elke installatie een afzonderlijke site. Het heeft één database met één set gebruikers. De berichten en pagina's worden allemaal toegeschreven aan de enkele URL, database-ID en RSS-feed. Eén site, één stroom berichten.
Alles aan het systeem is ontworpen voor eenvoud en gebruiksgemak. Dat is waarom ze die beroemde 5 minuten durende installatie hebben . Als je een tweede of derde blog nodig hebt, speel je er eentje op.
Maar dat is niet erg efficiënt. Het verdubbelt, verdrievoudigt en vergroot exponentieel het onderhoud en de beveiliging waar je je zorgen over moet maken. Om maar te zwijgen van URL's en domeinautoriteiten en doorsturen en …
Je snapt het. Het hebben van meerdere blogs op meerdere sites is niet wat u wilt. Ook al is dat technisch gezien de manier van WordPress om dingen te doen. Wanneer u naar Instellingen – Lezen kijkt  , kunt u slechts één pagina kiezen als de thuisbasis voor uw berichten, die ze allemaal als een feed zullen weergeven.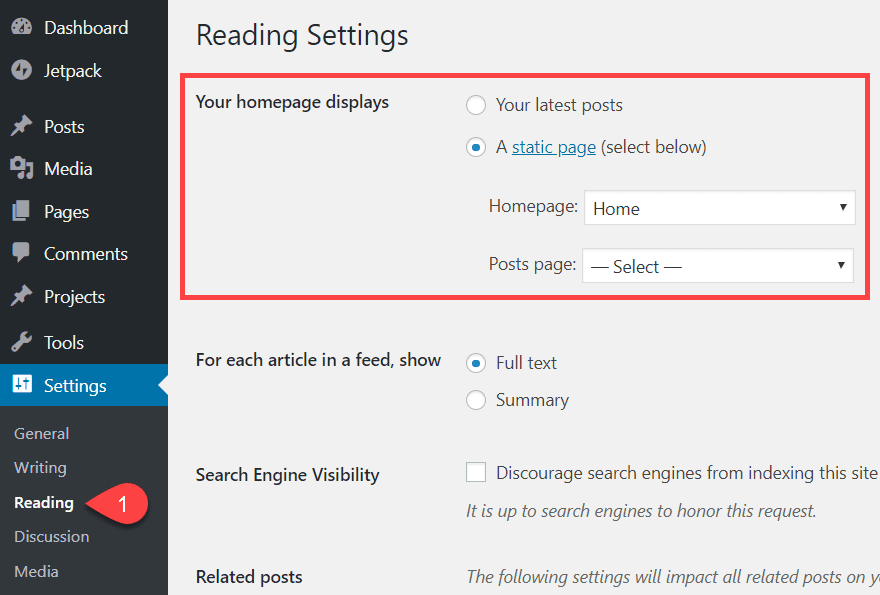 Er is echter hoop. We gaan twee oplossingen aanbieden voor hoe u meerdere WordPress-blogs op één WordPress-installatie kunt hebben.
Gebruik aangepaste categorieën en menu's om Posts te filteren en weer te geven

Maak een WordPress Multisite-installatie met meerdere blogs op een WPMU-netwerk
Beide manieren zijn ingebouwd in WordPress zelf. Ze zijn vrij eenvoudig in te stellen en te gebruiken (voor het grootste deel). We gebruiken geen plug-ins om dit te doen. Hoewel ze in i zijn gebouwd, klikken deze methoden niet alleen op een knop die zegt  Nieuwe blog maken . (Na het installeren van Multisite zal dat echter wel het geval zijn!) Laten we daarom verder gaan en kijken wat we  kunnen doen om meerdere blogs uit te voeren in plaats van wat we  niet kunnen .
Optie 1. Aangepaste categorieën en menu's voor meerdere blogs
Waarschijnlijk de gemakkelijkste manier om meerdere blogs op één site te maken, is om gebruik te maken van de categorieën, menu's en gebruikersfuncties die al in WordPress zijn ingebouwd.
Het eerste dat u hoeft te doen, is inloggen op uw site en navigeren naar  Berichten – Categorieën . Het staat bovenaan de linkerzijbalk in het admin-paneel.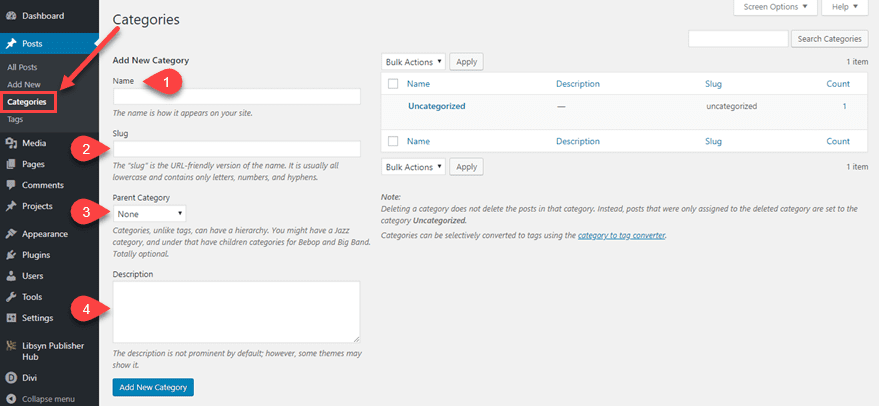 Op dit scherm ziet u vier velden voor uw Categorieën. Elk van hen is belangrijk om uw WordPress-site correct in te stellen voor het hosten van meerdere blogs.
Naam

 

– Dit is de weergegeven titel van de blog.

 

Als u Categorieën hebt die zijn geïndexeerd door zoekmachines, krijgt het archief deze titel.

 

Als dit niet het geval is, is deze naam alleen voor intern gebruik, maar kan deze in sommige thema's worden weergegeven.

Slug

 

– Net als een postslak geeft de Slug voor een categorie aan waar u het categoriearchief kunt vinden.

 

Afhankelijk van uw permalink-instellingen (onder 

 

Instellingen – Permalinks

 

), zou dit ook deel kunnen uitmaken van uw poststructuur.

Bovenliggende categorie

 

– De bovenliggende categorie is erg belangrijk voor het uitvoeren van meerdere blogs op één site.

 

Je zou een merk genaamd

 

The Umbrella Corporation

kunnen runnen 

 

met zijn eigen berichten en je blogs zouden

 

Raccoon City

 

, 

 

Leon's Journal

 

en 

 

Claire's Diary

 

kunnen heten 

 

.

 

Elk daarvan zou afzonderlijk zijn, maar gekoppeld aan het hoofdmerk.

 

U kunt dit ook doen voor een bovenliggende categorie als een primaire blog voor een podcast, maar gebruik subcategorieën als seizoensarchieven.

 

Deze is optioneel, afhankelijk van de structuur die je wilt.

Beschrijving

 

– De beschrijving wordt mogelijk niet overal (of waar dan ook) weergegeven, afhankelijk van uw thema.

 

Maar het kan worden geïndexeerd door zoekmachines, en het is goed voor de interne organisatie als niets anders.

 

Zeker de moeite waard om hier een Tweet-waarde aan info te plaatsen.
Na voltooiing verschijnen de nieuwe Categorieën aan de rechterkant van de pagina als een lijst. Elke bovenliggende categorie wordt boven zijn respectievelijke onderliggende items weergegeven.

Bovendien, of u het vakje wel of niet aanvinkt, wordt het onderliggende altijd vermeld onder de categorie in archieven en URL-structuren. U wilt dus misschien de bovenliggende / onderliggende hiërarchie niet gebruiken en ze allemaal instellen als categorieën op het hoogste niveau als ze allemaal autonoom zijn.

Voeg de categorieën toe aan het navigatiemenu
Door Categorieën te gebruiken, kunt u nu directe links naar de "blogs" in het navigatiemenu van uw site plaatsen. Navigeer naar  Uiterlijk – Menu's en selecteer aan welke menu ('s) u de koppelingen wilt toevoegen.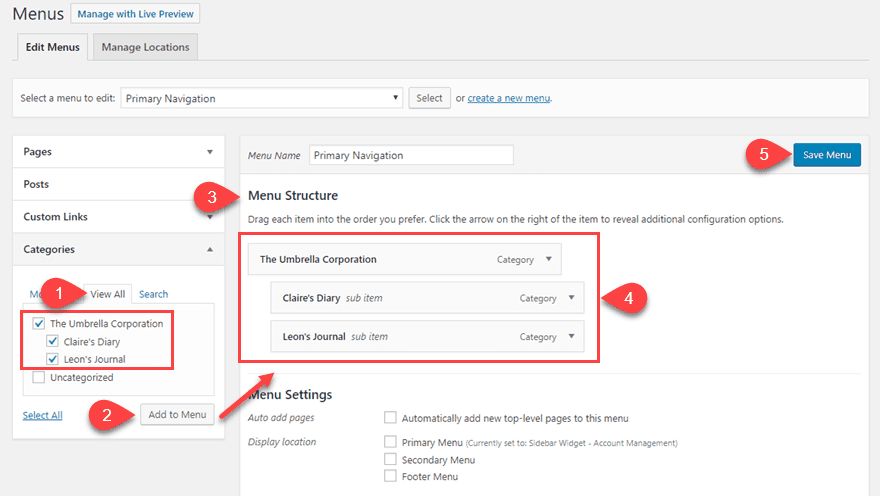 Zoek de nieuwe categorieën op het 

 

tabblad

 

Alles weergeven

 

omdat u ze nog niet eerder hebt gebruikt.
Selecteer welke u aan het menu wilt toevoegen en druk op de 

 

knop

 

Add to Menu

 

.
De 

 

menustructuur

 wordt bijgewerkt met de selecties die u hebt gemaakt.

Sleep de afzonderlijke blogs die u als subitems wilt plaatsen, indien gewenst.

 

Als ze niet inspringen, zijn dit items van het hoogste niveau in de navigatie.
Druk 

 

op Menu opslaan

 

.

 

Menu's worden niet automatisch opgeslagen in WordPress en dit is een ongelooflijk gemakkelijke stap om te missen.
Als dat is opgeslagen, kunt u nu de blogs afzonderlijk bekijken in de menu's die u hebt gemaakt.

Als u op een van deze klikt, wordt u rechtstreeks naar de pagina van die categorie gebracht (archief). Het wordt een feed met berichten die u in die categorieën hebt opgenomen. Net als de hoofdfeed van je blog.

Het nadeel van dit te doen is dat je primaire blog-URL vrij lelijk is. Je wilt niet dat mensen zien dat je categorieën als blogs gebruikt. Dat is misschien gênant. Maar we kunnen dat oplossen. De URL's zullen niet zo lelijk zijn als u de permalink-structuur zo instelt dat deze leesbaar is. En dat is gemakkelijk te doen.
De Permalink-structuur van uw blog wijzigen
Navigeer naar  Instellingen – Permalinks in uw WP-dashboard. Je hebt daar twee opties die we willen veranderen. De eerste is uw Post permalink. WordPress bevat veel variabelen om uit te kiezen. Afhankelijk van uw behoeften, kunt u het aanpassen zoals u dat wilt. Onze suggestie is de Category / Post Name ( % category% /% postname% ) structuur voor SEO. Gewoon berichtnaam werkt ook.

Als dat is gebeurd, is uw URL voor elk bericht precies zoals deze hierboven is getypt. Je hebt nog maar één stap voordat je klaar bent met het opzetten van de nieuwe blog. U hoeft alleen maar te veranderen wat WordPress gebruikt voor de Categorie permalink. Dus scroll verder naar beneden in  Instellingen – Permalinks totdat je  Category Base ziet .

U kunt dat veranderen in wat u maar wilt, maar  blogs of blogs is een veilige keuze. Zo kun je de  example.com/blog/umbrella-corp-structuur als URL voor elke blog gebruiken, wat veel beter is. Elke kindercategorie wordt toegevoegd. Als u echter niet kiest om de bovenliggende / onderliggende hiërarchie te gebruiken, is dat geen factor.

Maak een startpagina voor elke blog (optioneel)
Elke blog heeft nu een eigen categorie. De URL's en menu's en archieven zijn klaar. U wilt misschien een meer aanpasbare startpagina instellen. Archieven Pagina's zijn niet altijd de meest aanpasbare pagina's in WordPress, dus we willen u laten zien hoe u een paginabuilder (zoals Divi ) kunt gebruiken om een ​​unieke startpagina voor elk blog te maken.
Ik stel voor om ze te maken met behulp van dezelfde slak die je hebt gebruikt voor de categorie zelf. Dit maakt niets uit, want de URL voor de categorie is example.com / category / slug , onthoud en deze pagina is  example.com/slug . Meer dan wat dan ook, dit is omwille van consistentie dan iets anders.

Wanneer u een bouwer gebruikt (in dit voorbeeld gebruiken we Divi), open dan de pagina die u voor de blog in uw editor hebt gemaakt. In Divi selecteert u de rij en drukt u vervolgens op de knop  Black + Circle om Modal voor invoegmodule weer te geven. Selecteer daar  Blog op het  tabblad Nieuwe module .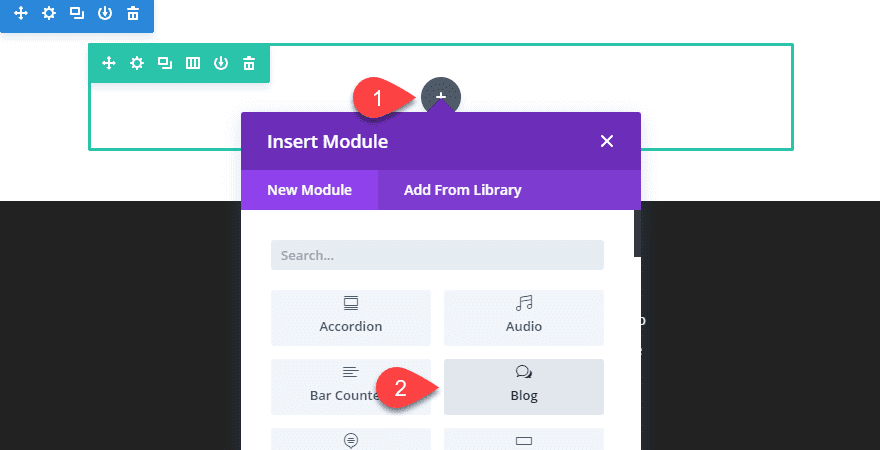 In de instellingen van de  blogmodule ziet u een  tabblad Inhoud . Blader totdat u de  lijst met categorieën ziet .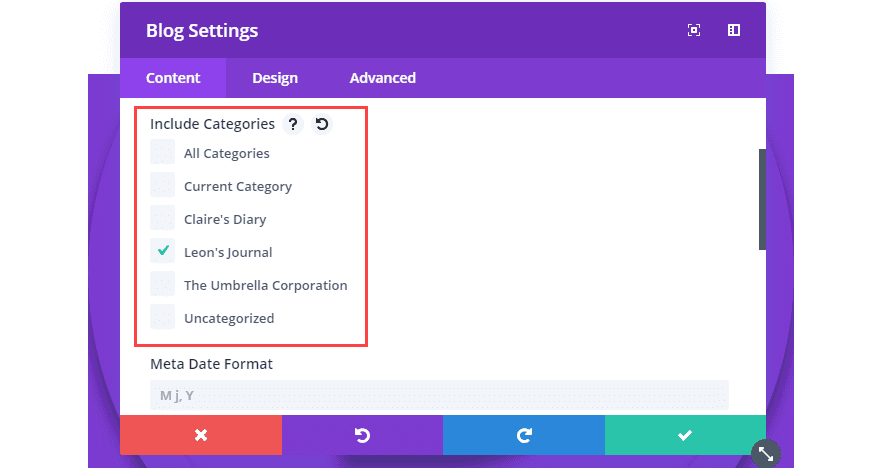 Selecteer de categorie die u voor de blog hebt gebruikt en druk op het  groene vinkje om eventuele wijzigingen op te slaan. Er zijn tal van andere aanpassingsopties waar je toegang toe hebt in Divi en andere builders, maar dat is ondergeschikt aan het feitelijk tonen van de berichten voor de blog, toch? Nu moet de module alle berichten weergeven die zijn getagd met die categorie. En alleen degenen die op die manier zijn getagd.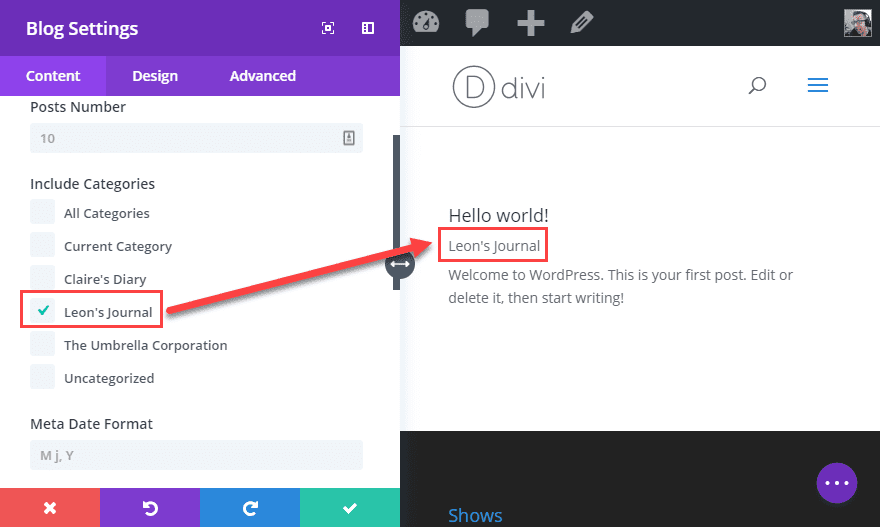 Dit werkt het beste voor alleen categorieën voor kinderen, of als u alleen categorieën op het hoogste niveau gebruikt om meerdere WordPress-blogs op één WordPress-installatie uit te voeren. Omdat als u ervoor kiest om een ​​categorie Ouder op deze manier weer te geven, u ook alle berichten van al uw kinderen krijgt. Zelfs als ze  alleen zijn getagd met de onderliggende categorie.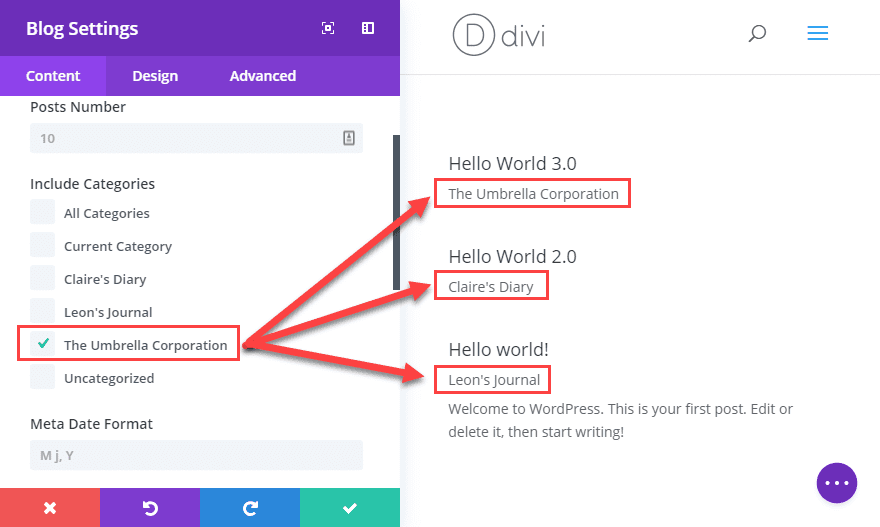 Met dat gedaan, kunt u doorgaan met het aanpassen van de pagina aan de blog die het host. Gebruikers die deze pagina bezoeken, zien alleen een lijst met de berichten die u via de blogmodule hebt gefilterd en omdat de URL rechtstreeks naar een pagina verwijst, zijn zij niet wijzer.
Proficiat! U hebt zojuist één WordPress-blog van elkaar gescheiden zonder gebruik te maken van alles behalve ingebouwde tools!
Individuele feeds maken voor de nieuwe blogs
Als iemand zich op je blog zou abonneren, zou de feed die ze zouden krijgen elke afzonderlijke categorie bevatten. Omdat ze zich zouden abonneren op de feed van de website. Als u een afzonderlijke feed voor elke afzonderlijke categorie op uw site wilt ontvangen, is het doodeenvoudig:  toevoegen / feed aan het einde van de URL . Dat is het. Super makkelijk. Super simpel. Mensen kunnen zich abonneren op de nieuwe blogs op zoiets als dit:  example.com/blog/umbrella-corp/feed .

Optie 2. WordPress Multisite gebruiken voor meerdere blogs
In sommige opzichten is het gebruik van WPMU een meer complete oplossing voor het probleem dan het gebruik van categorieën. Want wat een multisite-installatie is, is technisch gezien één centrale hub met een netwerk van WP-sites die er vanaf vertakken. Websites in een multisite-installatie delen thema's en plug-ins (en een superadmin-gebruiker), maar behouden op de meeste andere manieren hun autonomie. Als u bovendien een Multisite-installatie gebruikt, wordt de primaire domeinnaam op de een of andere manier gedeeld, waardoor alle sites in het netwerk met elkaar worden verbonden.
We hebben een ongelofelijk diepgaande gids over hoe je een WordPress multisite-installatie al kunt opzetten , dus daar gaan we hier niet te diep op in.
De reden dat we voorstellen om Categorieën via WPMU te gebruiken, is dat multisites snel ingewikkeld kunnen worden. Van installatie tot beheer om ervoor te zorgen dat plug-ins compatibel zijn , zijn er speciale problemen die optreden. Als u uw site wilt omzetten naar een multisite, moet u dit echter doen.
Voeg WMPU-code toe aan wp-config.php
U wilt het  bestand wp-config.php voor uw site vinden in de basismap van uw installatie. Open het dan en voeg de volgende regels toe, net boven waar het zegt  / * Dat is alles, stop met bewerken! Veel bloggen. * /
define( 'WP_ALLOW_MULTISITE', true );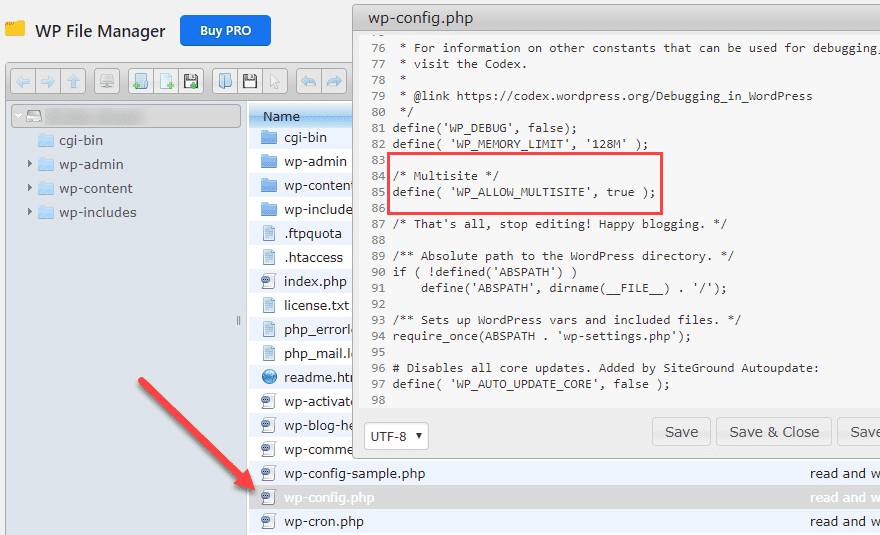 Sla dat op en je hebt een nieuw item in je WP admin-menu onder  Tools – Network . Binnenin zul je een scherm hebben dat je laat weten wat het opzetten van een WPMU-site inhoudt.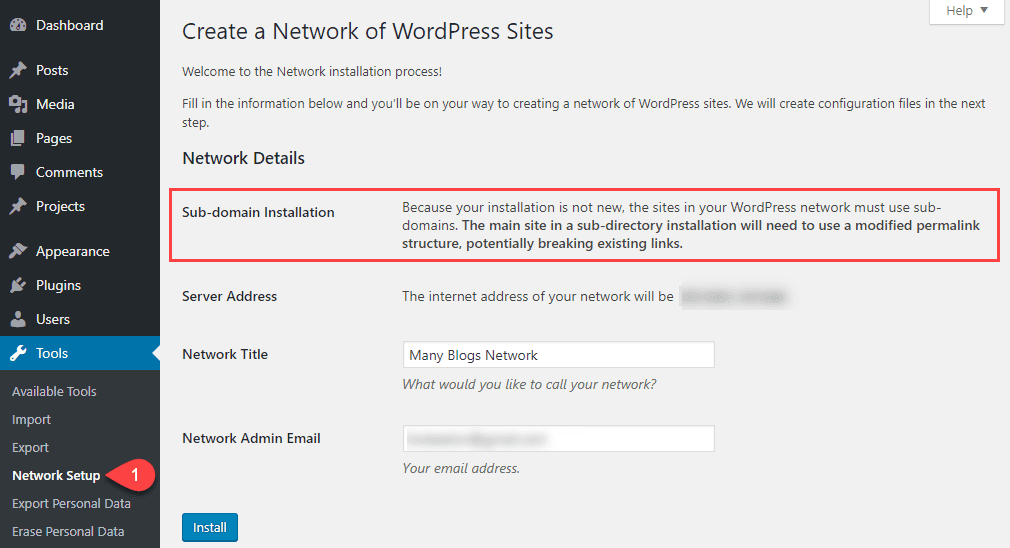 U moet het netwerk een naam geven en het vertelt u het primaire domein dat het zal vinden. U kunt ook  alleen subdomeinen gebruiken, niet subdirectories . U kunt blog.example.com gebruiken, maar niet example.com/blog om te voorkomen dat bestaande berichten / pagina's conflicten veroorzaken. Als u klaar bent om door te gaan, drukt u op  Installeren .
Het volgende scherm bevat de code die u in de bestanden wp-config.php en  .htaccess moet plakken  .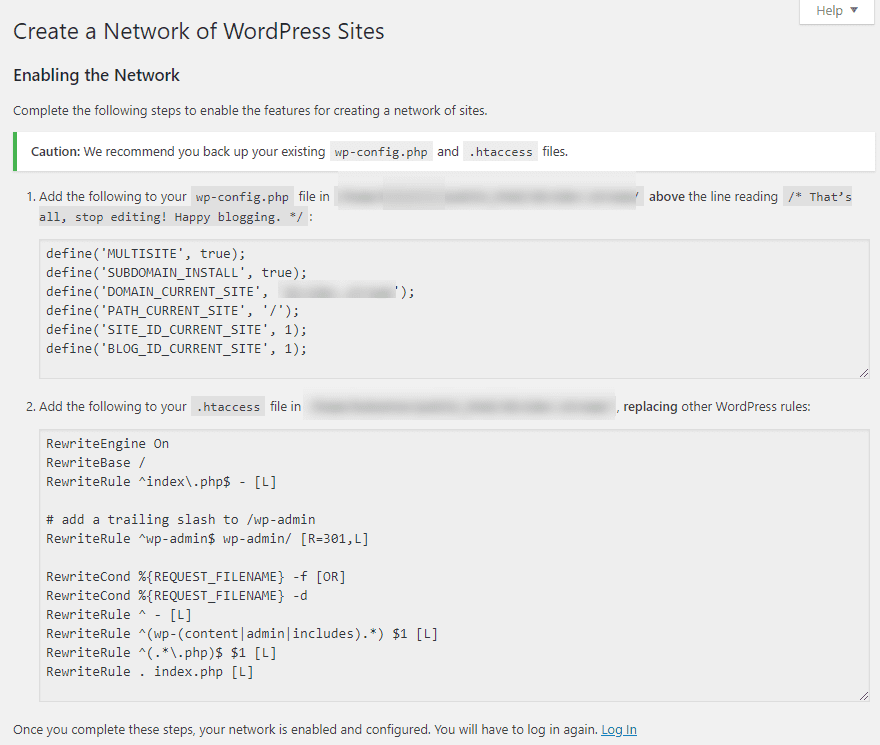 Wanneer dat is gebeurd en u hebt ze geplakt en vernieuwd / opnieuw aangemeld, ziet u een aantal nieuwe functies. In de linkerbovenhoek van het scherm ziet u een vervolgkeuzelijst Mijn sites in de beheerbalk en een  gedeelte Sites in het dashboard zelf.

Terwijl u de muisaanwijzer op de beheerbalk plaatst, wordt een lijst met sites weergegeven met een menu met acties die u kunt uitvoeren. En onder  Sites , de  Nieuwe toevoegen knop kunt u nieuwe WP-installaties te creëren met een klik op een knop (en een paar formuliervelden). Onmiddellijk nadat u op de  knop Site toevoegen heeft geklikt, wordt de nieuwe weergegeven als onderdeel van uw netwerk.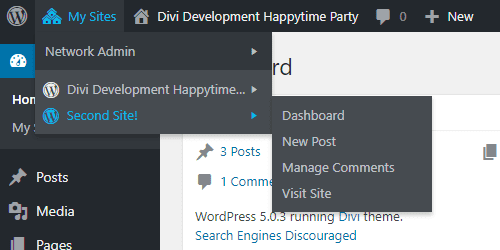 De andere blogs aan menu's toevoegen
In de meeste opzichten zijn de nieuwe sites die u voor blogs maakt, volledig autonome sites. Ze hebben hun eigen feeds, URL's (op basis van het subdomein) en een reeks gebruikers. Dus om ze weer te koppelen aan de hoofdpagina, doet u hetzelfde als eerder met de menu's. Alleen deze keer gebruikt u de  optie Aangepaste koppeling .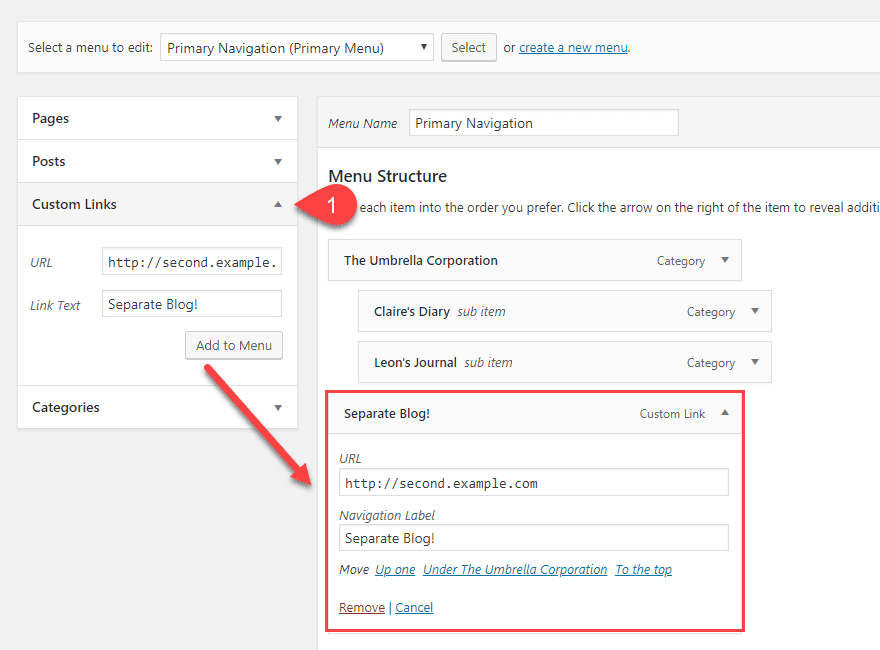 En dat is het! Je moet nog steeds ontwerpen en daadwerkelijk aan de andere site werken. Maar je kunt het meteen gebruiken als een afzonderlijke blog.
Opmerking over subdomein versus submappen met multisite
Als u submappen met WPMU wilt gebruiken, moet u vanaf het begin een schone installatie uitvoeren . Anders zult u subdirectories moeten gebruiken, zoals we hierboven hebben vermeld.
Onthoud dat D omain Authority en link juice niet doorgeven aan subdomeinen . Ze geven echter wel door aan submappen. Ze fungeren als afzonderlijke domeinen op het gebied van SEO.
Als je de autoriteit wilt behouden die je hebt opgebouwd met je hoofdsite voor deze nieuwe blogs, wil je de eerste optie gebruiken en categorieën gebruiken.
Afsluiten
Ongeacht welke optie voor u beter werkt, terwijl er geen officiële manier is om meerdere WordPress-blogs op één WordPress-installatie te installeren, kunt u er omheen gaan en uw weg door de beperkingen halen. Het kost misschien wat moeite, maar het is absoluut de moeite waard als je een hoop blogs rond een centrale WP-hub wilt hebben.
Heb je meerdere blogs op één site? Hoe heb je het gedaan?
Artikel weergegeven afbeelding van Ico Maker / shutterstock.com